Updated for the 2022-2023 school year. Apply now!
Don't forget to fill out your FAFSA.
Scroll to the end for college exploration websites!
As always, see your counselor if you have any questions.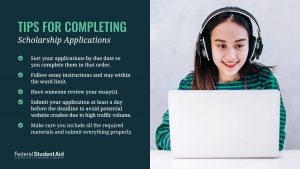 Going Merry  A free scholarship and financial aid platform.  Personalized matching. Thousands of scholarships.
Fast Web  The leading online resource in finding scholarships to help you pay for school.  Scholarships just for you based on your strengths, interests, and skills.
CFO Scholarships  The Community Foundation of the Ozarks manages more than 400 private scholarship funds established by individuals, families and companies that want to provide a path to higher education for generations to come. These donors determine the size and eligibility criteria for the scholarships they create, and the CFO manages the scholarship process on their behalf.
Scholarships for students seeking a profession in the healthcare field focusing on substance abuse and mental health.
DUE IN AUGUST
2023 Ruth Fox Scholarship Application deadline is August 15th 2023. The Ruth Fox Scholarship program awards select physicians-in-training with a scholarship to attend the ASAM 2023 54th Annual Conference in Washington, DC.  The scholarship program plays a significant role in growing the qualified workforce desperately needed to treat addiction.
DUE IN OCTOBER
Dent–Phelps County Cattlemen's Association Scholarship Application deadline is October 15th.  To qualify for this scholarship opportunity, the candidate must be on track to becoming a high school graduate or be enrolled in an accredited college or university. They must be a resident of Dent or Phelps county.  All applicants must have at least a 2.5 GPA and must provide a copy of their latest high school or college transcript with their application. First choice will be given to students
who plan on attaining some type of degree related to the agriculture industry.  Please see your counselor for more information and the scholarship application.
The Coca-Cola Scholars Program Scholarship  Application deadline is October 31st.  The Coca-Cola Scholars Program scholarship is an achievement-based scholarship awarded to graduating high school seniors. Students are recognized for their capacity to lead and serve, as well as their commitment to making a significant impact on their schools and communities.
DUE IN NOVEMBER
Elks National Foundation  Application deadline is November 14th.  Ranging from $1,000 per year to $12,500 per year, Most Valuable Student scholarships are for students pursuing a four-year degree, on a full-time basis (minimum of 12 semester hours), in a U.S. college or university. All scholarships are in the form of certificates of award conditional upon the full-time enrollment of the winner in an accredited U.S. college or university.
DUE IN DECEMBER

Mike Rowe Works Scholarship  Each year, we look for the next generation of aspiring workers who will work smart and hard.  The Work Ethic Scholarship Program doesn't focus on test scores, grades, or grammar.  It's about the people who share our values and understand the importance of work ethic, personal responsibility, delayed gratification, and a positive attitude.
DUE IN JANUARY
GE-Reagan Foundation Scholarship Application deadline is January 5th.  Honoring the legacy and character of our nation's 40th President, the GE-Reagan Foundation Scholarship Program rewards college-bound students who demonstrate exemplary leadership, drive, integrity, and citizenship with financial assistance to pursue higher education.
John T. Belcher Scholarship Award Application deadline is January. A $1000 annual scholarship is awarded to a student in each of MSBA's 17 regions. Applicants are judged on the basis of academic performance, extracurricular activities and the quality of an essay. A statewide winner is selected from this group of regional winners and awarded an additional $1500.
The Hagan Scholarship Application deadline is January 15th. This is a nationwide, need-based merit scholarship.  Recipients must graduate from a public high school located in a county in the United States having fewer than 50,000 residents.  The scholarship provides up to $6000 each semester for up to 8 consecutive semesters.
National Beta Scholarship Program  Application deadline is January 19th.  The National Beta Scholarship Program offers over $300,000 in scholarships to outstanding Beta members in their 12th grade year. Over 250 scholarships are awarded each year, ranging in value from $1,000 to $20,000. Incredibly, since 1991, Beta has awarded more than $6 million in scholarships.
Conservation Foundation of Missouri Scholarship  Applications must be submitted by January 31st.  CFMO offers 5 – $1000 scholarships to high school seniors or undergraduates in different natural resources areas.  Preference will be given to those demonstrating financial need.  Information can be found at on the same website, at http://www.moswcs.org/scholarship/.
DUE IN FEBRUARY
William H. Cooper Leadership Scholarship  Application deadline is February 1st.  A $5,000 scholarship will be awarded to the winner, with half to be paid the first year and half to be paid the second year. Recipients will be required to maintain a GPA of 2.5 or higher in order to receive the full scholarship.  Please visit https://www.fscb.com/cooperscholarship  for more information on eligibility requirements.

MFA Foundation Scholarship Application deadline is February 15th.  MFA Foundation Scholarships are offered to high school seniors who are a child or grandchild (including step) of a member-level customer.  The student will need to supply the membership number and their relation to the member on the application.  The $2,000 scholarship is made payable to any accredited college or university and is applied toward the student's freshman year. It is not renewable.
Quest for Education Scholarship  Application deadline is February 18th.  Vantage Credit Union is dedicated to helping students reach their educational goals through higher education. We award ten $1,000 Quest for Education scholarships to young members who qualify, to be paid to the recipients' chosen accredited college or university at the time of fall registration. One scholarship is awarded per recipient, and funds can be used for books and tuition.
Dr. Darrell "Jack" Holley/MUSIC Scholarship Application deadline is February 17th.  MUSIC members are designated into three enrollment size categories: small, medium and large. Six scholarships (two in each category) of $2,000.00 each (nonrenewable) will be awarded to graduating seniors of districts that are MUSIC members.
Luther A. Riddle Scholarship Sponsored by Gascosage Electric Coop. Application deadline is February 23rd.  The Luther A. Riddle Scholarship is open to any high school senior whose parent or guardian is a member and has an active connected account with Gascosage Electric Cooperative.  The applicant must be a full time student.  All applications must be submitted to Gascosage Electric Cooperative no later than February 27.  Any questions should be directed to your high school counselor or Kim Doyle, Executive Secretary, Gascosage Electric Cooperative, kim.doyle@gascosage.coop or 573-759-7146 ext. 201.  
DUE IN MARCH
American Welding Society Scholarship  Application deadline is March 1st. The AWS Foundation is a not-for-profit 501(c)(3) charitable organization. It supports programs to ensure the growth and development of the welding industry through research and educational opportunities. Our industry depends upon education that prepares the next generation to meet the challenges ahead.
MAMIC HIGH SCHOOL Scholarship Application deadline is March 15th. Each year MAMIC awards 8 scholarships to graduating Missouri high school seniors planning to attend a Missouri college, university, community college, or vocational school.
Horatio Alger Scholarships  Application deadline is March 15th.  As one of the nation's largest need-based college scholarship programs in the country, the Horatio Alger Scholarship Programs specifically assist high school students who have faced and overcome great obstacles in their young lives. While many programs are directed primarily to recognizing academic achievement or leadership potential, the Horatio Alger Association seeks students who have exhibited determination, integrity, and perseverance in overcoming adversity, as well as have critical financial need.
Missouri Stem Signing Day Application deadline is March 1st.  Sponsored by The Boeing Company and the Missouri business community, the program offers $1,000 scholarships to a minimum of 10 students to help them pursue their STEM education goals at a 2-year, 4-year or technical college of their choice. The funds are unrestricted to be used for tuition, living expenses, books or technology.
Missouri Courage Scholarship  Application deadline is March 1st. Missouri Courage Scholarship is the first, and largest, state-wide LGBTQ scholarship organization in Missouri. They fund annual scholarships for graduating high school seniors in Missouri pursuing higher education. Their mission is to acknowledge, affirm, and reward students who demonstrate courage and take a stand for social justice. 
The Masonic Scholarship Fund of Missouri, Inc.  Application deadline is March 15th. The Masonic Scholarship Fund of Missouri, Inc. proudly offers three different scholarships to Missouri high school students.  These scholarships are available to students graduating this year from a Missouri high school, seeking to attend an accredited institution or higher education anywhere.  Masonic Merit Scholarship A $1,000/year scholarship available to students in any degree program.  Ruth Lutes Bachmann Scholarship A $1,000/year scholarship for students seeking a degree in the education or healthcare fields.  Samuel Smith Stewart Masonic Scholarship A $13,000/year scholarship available to students in any degree program.
Marion Dale Summerford Memorial Scholarship Application deadline is March 17th. Infuze Credit Union is proud to offer the Marion "Dale" Summerford Memorial Scholarship. Mr. Summerford, known by many as Dale, was a long time volunteer on the Infuze Credit Union Board of Directors. Dale believed in the philosophy of the credit union movement, "People Helping People." Our goal for providing this scholarship is to assist our Member/Owners in their pursuit of higher education.  The credit union has awarded more than $100,000 in scholarships since the inception of the scholarship.
The Robert and Dorothy Wind Family Scholarship Fund – Emergency Services First Responders Application deadline is March 19th. The Robert and Dorothy Wind Family Scholarship program of the Montauk Rural Fire Department awards academic scholarships to individuals pursuing a career in one of the following emergency first responder public services: Fire Fighter, EMT-Paramedic, or Law Enforcement Officer. Qualified applicants must be high school or GED graduates from Dent or surrounding counties. A preference is given to applicants residing in the Montauk area. This scholarship may be renewable.
Shelter Insurance Foundation Scholarship Forms submitted by March 15th. The Shelter Foundation annually awards scholarships to graduating high school seniors in communities where there is a Shelter Mutual Insurance Company agent who participates in the program. This scholarship can be used at any college for the fall. The scholarship will be paid directly to the school.
Driver Education Initiative Award – Scholarship Opportunity Application deadline is March 31st. This company is seeking to reward essay applicants $3,000 in scholarships- for students enrolled as a High School Sophomore, Junior, or Senior or as a College Freshman – on the topic of being a safer driver.
DUE IN APRIL
MOCA Head Start Scholarship  Application deadline is the first Friday in April.  This scholarship is designed to help a student who formerly attended a Head Start program in their desire to pursue higher education.
Global Life Equipment Scholarship – $500 Application deadline is April 15th. Global Life Equipment is offering a scholarship to any student that has a GPA of 2.5 or higher that is planning on attending any post-secondary institution this coming fall. To apply, you must submit a short story about one of the equipment they sell on their page. Please see the above link or click HERE for more information.
DUE IN MAY
Florin|Roebig Scholarship Application deadline is May 1st. Florin|Roebig knows how valuable higher education can be, not only in shaping society but in helping young people reach their long-term academic and professional goals. For this reason, they are proud to announce a scholarship contest awarding $1,500.
First, second and third-place prizes are available through an essay contest, highlighting the upcoming election from the view of a college student.
BBB Student of Ethics Award – $2,500 Application deadline is May 2nd. This scholarship is open to juniors graduating in 2024. Better Business Bureau Serving Eastern & Southwest Missouri & Southern Illinois Student of Ethics Award Program recognizes high school students who personify high ethics demonstrated through leadership, community service, overall personal integrity and academic history.
B. Davis Scholarship Application deadline is May 21st. Award value is $1000.  This Scholarship is available to all high school juniors and seniors as well as all students currently registered in any post secondary institution. To apply for this scholarship you will need to write an essay of less than 1000 words on the following topic: Describe the three characteristics of leadership you value most.  Discuss why you believe that these traits are so important and how you feel that they are developed in an individual. 
DUE IN JUNE
Home-Security.com Application deadline is June 1st. Home-Security.com is proud to announce our new scholarship contest to support your student's education, open to all students of certified colleges or universities. This year, they are providing three scholarship prizes for the top three essay submissions.
They are offering the following scholarships to essay contest winners:
First place: $750
Second place: $500
Third place: $250
Award winners will be announced in December 2023 and funds will be dispersed to the educational institution of scholarship winners in January 2023.
Boom & Bucket Scholarship Application deadline is June 15th. Boom & Bucket is offering a scholarship of $1,000 to be awarded each year to a student pursuing a heavy machinery themed program. This scholarship is available to both currently enrolled students and future students who are planning to attend a program within the next 12 months. The program can be at a college or a trade school anywhere in the United States or Canada.
RESOURCES
College Prowler is a free tool created by students for students to search and compare colleges, find and compare college majors, and search and apply for scholarships.
College Navigator is a free consumer information tool designed to help students, parents, high school counselors, and others get information about nearly 7,000 postsecondary institutions in the United States. It offers a wide range of information previously found on COOL — such as programs offered, retention and graduation rates, prices, aid available, degrees awarded, campus safety, and accreditation. However, College Navigator offers users valuable new information about colleges and universities, and it does so in a way that is vastly more user-friendly.
CollegeScholarships.com  Students, parents, and educators may use this page to request college and university catalogues, admissions applications, and information about scholarships and financial aid.
Scholarships.com   This is a free scholarship search and financial aid resource. This is a very comprehensive site that has membership in the National Association of Financial Aid Administrators, which is a professional organization that sets the standards for Financial Aid professionals.
Fastweb.com  This free service claims to have access to over 180,000 forms of financial aid and provides a scholarship search.
AffordableColleges.com  The thought of paying for a college degree can seem overwhelming, especially without financial help from one's family. Are you wondering how to pay for your college on your own? Don't know where to start? The following guide explores the many options available.
Please use the following links to find more information about dual credit opportunities: