Mr. Clark's Class 1B/2B
Weekly Newsletter
573-762-9653 Ext 1112
lclark@newburg.k12.mo.us
Spelling Words:
                        do, find, funny, sing, no, they, check, shack, much, talk
Vocabulary Words:
                        Rattlesnake, reptile, railroad, steam, gill, hatch, spend

IMPORTANT NEWS:
Last week we worked hard on many learning projects. Your student has a better understanding of how to use Xtramath and improve their fluency. Their typing and computer skills are improving and they did their first Google search to research information about windmills. Many students have met their A.R. Reading goal, and all of them continue to work hard. We aren't stopping at our goal, but plan to set a new record this quarter. But best of all, they did amazing on their book reports, this was a difficult assignment but the entire class really did their best!
Things to remember:
Please send a snack with your student daily.

Remember to check ClassDojo Often, I try and share both class and individual student events several times per week.

Your child is welcome to keep a water bottle on the counter in the classroom.

NO SCHOOL on Friday, 21 September, 2018.
Reading:
We will take our spelling test on Thursday so please practice at home if you have time. This week we will be reading about rattlesnakes, alligators, the difference between amphibians and reptiles, steamboats and railroads. We will continue working towards 200% of our A.R. Goal!
Writing:
We will begin our first creative writing project. Each of us will write our own fictional story and then present it to the class.
Math:
We are learning how to tell time, and starting to learn measuring skills. Of course, we are always working on addition, subtraction and place value.  
Please contact me anytime you have a question or a concern!
Thank you and have a great week,
Mr. Clark
STUDENT REPORT:
I liked doing math and I learned  1+1=2, and I also learned about zearn.
I  learned 1+2=3, and I enjoyed gym.
I Learned how to do Xtramath because it is good for me.
I learned about adding 2-digit numbers in columns with regrouping.
I learned how to type on the keyboard.
We read to the dog.
I learned how to write a book report this week.
This week I learned about adding in math, after recess.
I got to learn about the school nurse.
Our first "Wolf Time" event at the grade school, Reading Pals. We have formed a joint effort with the high school to help our early readers improve their skills with daily partner reading every afternoon. This will include both enrichment to challenge students reading above grade level and extra support for students who struggle with this difficult and important task.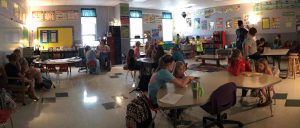 We are looking forward to an exciting learning adventure this year. We will be exploring many new facets of the world that surrounds us, and writing about what we experience.